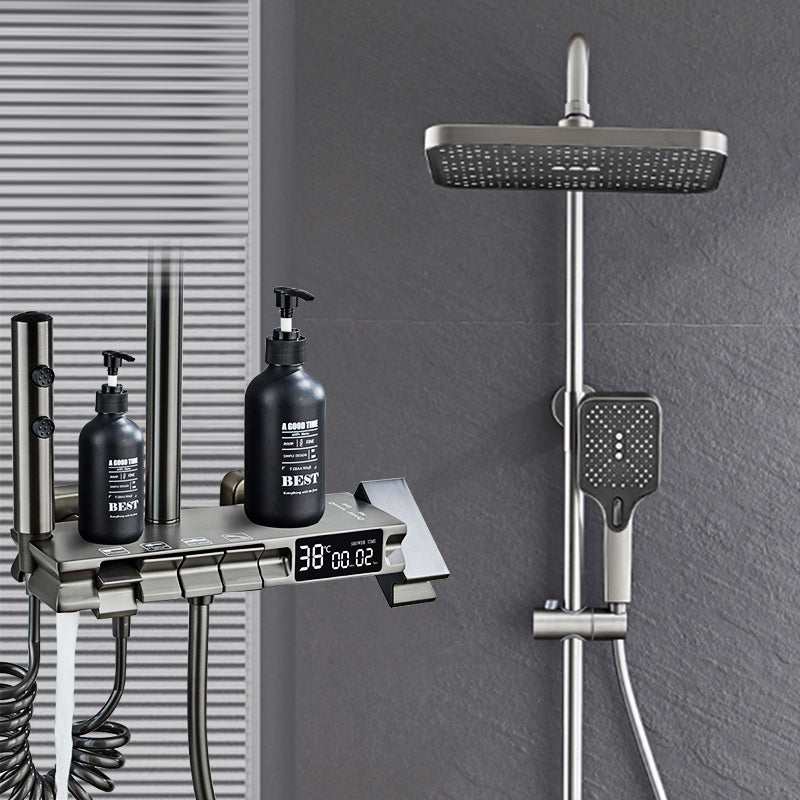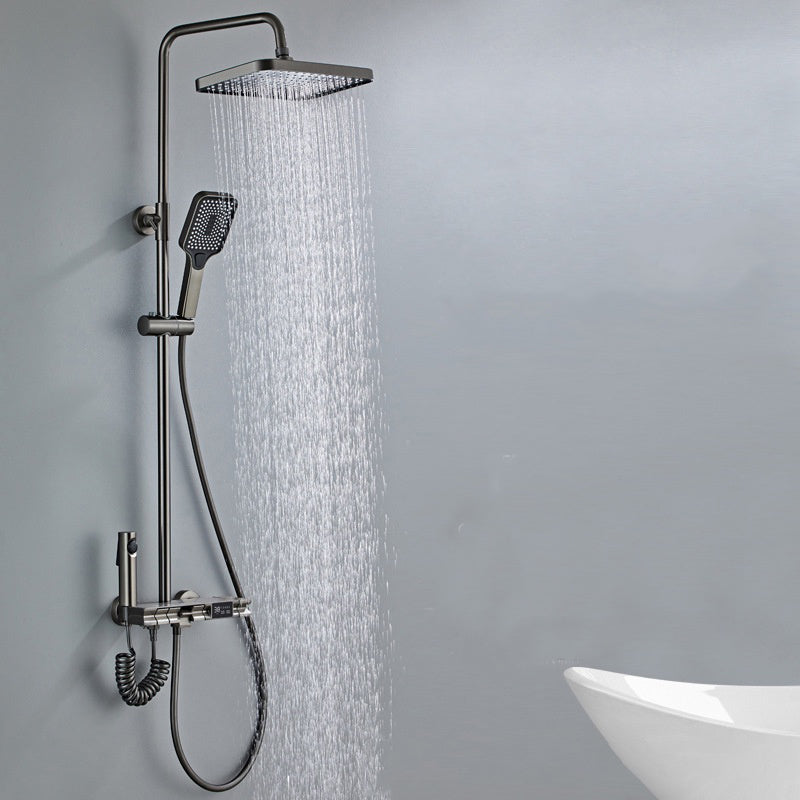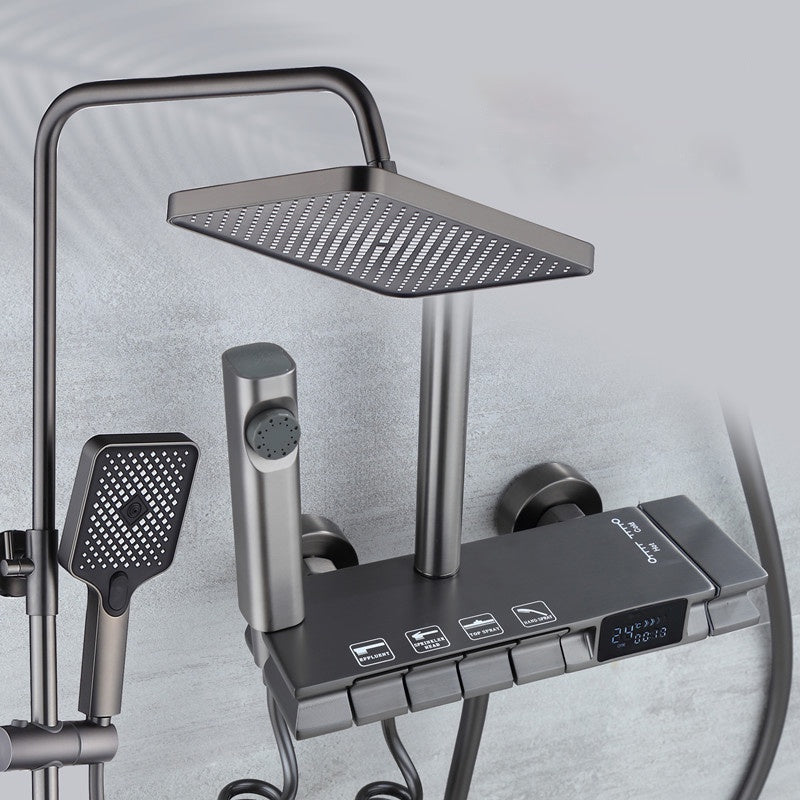 Smart Bathroom Digital Display Shower System
30-Day Return & 5-Year Warranty
Features:

【Powerful Shower System】The real-time temperature display function allows you to quickly adjust to a comfortable bathing temperature.No battery is needed, no need to plug in, water is injected from the bottom device, so that the magnetic spray wheel rotates so that the internal magnetic drive generates electricity.

【4 Water Outlets】Piano keys are independently controlled, top spray/hand-held/bidet spout/tub faucet, each water outlet has a corresponding switch, and the key functions are clearly marked (4 water outlets cannot work at the same time).

【Enjoyable Shower】12inch Overhead shower, silica gel water outlet, self-cleaning needle ejects automatically, smooth water flow without clogging. 360° rotating adjustment, adjust the comfortable water outlet angle. The handheld shower head has 3 adjustable settings including rain mode, mist mode, and pulse mode.

【Multifunction】The hidden spout quickly fills the tub, enhancing not only the design but also the practicality. Equipped with a bubbler, the faucet can filter impurities in water. Pressure handheld bidet spray is used for cleaning the privacy which has a very good effect. Cleaning buttocks during the menstrual period can avoid bacteria caused by hand-washing to ensure your healthy use.

【Fits Your Every Need】

With the adjustable handheld shower bracket, precisely positioned at the right height - great for kids! Satisfy every family member's need. 59" PVC shower hose can carry out targeted cleaning
Brushed Grey Design
Combined with modern aesthetics, create a unique and innovative shower, elegant water-plated gray brushing process, create a new style, simple style to achieve a new bathroom aesthetics.
PVD Brushed Process
Combined with modern aesthetics, create a unique and innovative shower, elegant water-plated gray brushing process, create a new style, simple style to achieve a new bathroom aesthetics.
59A Fine Brass Body
The main body is made of high-quality all-brass, and the integrated casting molding process is 50% more material than the main body of the faucet on the market, and the pipe wall thickness is uniform and has strong compressive performance.
HD Temperature Display
Through hydroelectric power, the real-time temperature is visible.The temperature sensor is combined with the LED digital display, and the water temperature is clearly and accurately displayed after the water is connected.
One Key One Mode out of the Water
One key to the water, easy to identify and operate, the elderly and children can also easily use.
Hidden Waterfall Outlet
The faucet is beautiful and practical, convenient for life to hold water, rinse and hide to avoid bumps, save space and upgrade safely.
Large Space Storage Surface
It is equivalent to an additional storage area, which makes more space for narrow bathrooms to easily organize items and toiletries more conveniently.
Hot and Cold Water are Easily Adjusted
It adopts high-quality valve core, with silky rotating body, easy and convenient water temperature adjustment, durable.
Universal Installation
Hot and cold dual control, suitable for 99% of families,13-17cm adjustable hole distance.
Rain Showerhead
The large-size top spray covers the whole body with fine water droplets, like a rainforest, making every inch of skin comfortable.
Silicone Outlet Hole
No longer worry about the water outlet being blocked, easy to clean. Smooth pressurized water.The bionic rain AIR air injection technology allows you to enjoy the shower experience to the fullest.
Top ABS Material
The top spray of the shower is made of ABS material, which is sturdy and durable, and the surface adopts multi-layer electroplating technology, which will never rust.
ABS Starry Hand Shower
Starry sky large panel, triple water outlet. Delicate water, skin care, experience double comfort.
Three-function Hand Shower
It is easy to adjust the water outlet mode, the control is simple, the water outlet is three gears, the bathing is more calm, and it can meet your needs.
Product Parameters:

ABS High-pressure Spray Gun
Gently press the spray gun to flush high-pressure, in daily use, it can also solve toilet, floor, floor drain, mop and other cleaning tasks.
Shipping Policy
We partners with proven carriers that offer insurance and tracking, including: UPS, FedEx, USPS and EMS etc. All shipment times are shown in business days (Monday through Friday, excluding weekends and holidays). Shipping times are subject to each carrier's daily cut-off time, and dependent upon warehouse turnaround.
For more about shipping policy, please click Shipping Information.
Return Policy
To request a cancellation please contact Customer Service at email within 24 hours and we will attempt to stop or modify the order. Once an item has produced or shipped, cancellation is not possible.
Items returned to us that meet the following guidelines will be fully refunded for the cost of the merchandise. Original shipping charges cannot be refunded. If you have any questions, please email us at Helen@homdiyhardware.com.
A. Must be in resalable conditionMust be free from scratches and/or defects
B. Must not have been installed.
C. Must be in the original manufacturer's box and packaging.
D. Must not have any writing on the original packaging.
E. Must not be missing pieces.
F. Must not be clearance/liquidations/closeout
For more about return policy, please click return & exchange policy.
Q: What payment do you accept?
A: We offer several payment options for your convenience. We accept Visa, MasterCard, Discover, and American Express credit cards. We also accept PayPal.

Q: How long until my order will ship?
A: We usually ship all orders within 2-5 business days of confirmed payment. The actual order processing time is subject to the instructions on each product page.

Q: How to Track the Package?
A: Once an order has shipped out, we will send you a Shipping Confirmation email that includes the tracking number and the carrier. Just go to the carrier's website and use the tracking number to track your package.
If you have an account, the tracking number and website can also be found in the Order Status History in Account-My Orders.
If you are without an account, you can use the email address and order number via the website "Customer Service-Track Order" to check the tracking information.

Q: How do i change or cancel an order?
A: We know how important your order is, so we aim to fulfill orders as quickly as possible.
- Orders canceled within 24 hours of payment confirmation will be eligible for a full refund.
- Orders canceled beyond 24 hours after payment confirmation will be eligible for a partial refund consisting of full shipping cost and 60% of the product purchase price.
- Once your order has been shipped, it can no longer be canceled.

While we cannot cancel or change an order once it has been placed you are welcome to return the item to us in accordance with our Returns Policy.

● For Lighting Category:
Q: Are bulbs included with the light fixture?
A: Bulbs are not included unless otherwise noted.

Q: What does the specification under the compatible bulbs, such as E27, E26, E14, etc mean? How to choose the right ones for my chandelier?
A: The specification such as E27, E26 means the diameter of the bulb base in millimeters. For example E27 means the diameter is 27mm.

Q: Why do my bulbs burn out so quickly?
A: Bulbs burn out prematurely for a number of reasons. The more common include:
First, the bulb not making good contact in its socket.
Second, there could be a loose or otherwise bad connection somewhere in the line.
Third, changes in voltage from the Electric Company (including spikes, and surges).
Four, having the bulb in a fixture that does not let it disperse the heat it gives off (too closed up).
Five, putting in a higher wattage bulb than what is recommended for that particular fixture.
Six, You may be using low-quality bulbs.
Shower Systems
A: Different parts of the shower are made of different materials. Main body: brass; Shower arm: stainless steel; Sprayer: stainless steel; Handheld and top spray shower: ABS
A: The turbo system and temperature tester are built into the shower main body. When the water flows through, the turbine will rotate and drive to generate electricity, which is used to display the water temperature.
A: In general, the water pressure of ordinary household water can meet the requirements. The specific water pressure requirement is 0.1~0.5 MPa.
A: Sorry, it can't. All current temperature display shower products are designed in degrees Celsius.
A: Like any other product, the shower system has a 5-year warranty as well. Free replacements within the warranty period.
A: Yes, this is normal. All products will be tested by water before shipment to ensure quality. We promise that none of them have been used or are second-hand products.
A: No, the temperature is shown on Celsius only.
You can contact us through our contact page! We will be happy to assist you.
A: Yes, it can. Up to four water outlet modes can work at the same time.
Other