Single-Hole Rotatable Multi-Derectional Faucet
30-Day Return & 5-Year Warranty
Features: 
The innovative rotating faucet at any angle can easily complete activities such as brushing teeth, face and hair even in the wash basin.
Spray face features an easy-to-clean surface that withstands mineral buildup.
Single lever handle makes adjusting water temperature easy.

Ceramic disc valves exceed industry longevity standards for a lifetime of durable performance.
Shipping Policy
We partners with proven carriers that offer insurance and tracking, including: UPS, FedEx, USPS and EMS etc. All shipment times are shown in business days (Monday through Friday, excluding weekends and holidays). Shipping times are subject to each carrier's daily cut-off time, and dependent upon warehouse turnaround.
For more about shipping policy, please click Shipping Information.
Return Policy
To request a cancellation please contact Customer Service at email within 24 hours and we will attempt to stop or modify the order. Once an item has produced or shipped, cancellation is not possible.
Items returned to us that meet the following guidelines will be fully refunded for the cost of the merchandise. Original shipping charges cannot be refunded. If you have any questions, please email us at Helen@homdiyhardware.com.
A. Must be in resalable conditionMust be free from scratches and/or defects
B. Must not have been installed.
C. Must be in the original manufacturer's box and packaging.
D. Must not have any writing on the original packaging.
E. Must not be missing pieces.
F. Must not be clearance/liquidations/closeout
For more about return policy, please click return & exchange policy.
Q: What payment do you accept?
A: We offer several payment options for your convenience. We accept Visa, MasterCard, Discover, and American Express credit cards. We also accept PayPal.

Q: How long until my order will ship?
A: We usually ship all orders within 2-5 business days of confirmed payment. The actual order processing time is subject to the instructions on each product page.

Q: How to Track the Package?
A: Once an order has shipped out, we will send you a Shipping Confirmation email that includes the tracking number and the carrier. Just go to the carrier's website and use the tracking number to track your package.
If you have an account, the tracking number and website can also be found in the Order Status History in Account-My Orders.
If you are without an account, you can use the email address and order number via the website "Customer Service-Track Order" to check the tracking information.

Q: How do i change or cancel an order?
A: We know how important your order is, so we aim to fulfill orders as quickly as possible.
- Orders canceled within 24 hours of payment confirmation will be eligible for a full refund.
- Orders canceled beyond 24 hours after payment confirmation will be eligible for a partial refund consisting of full shipping cost and 60% of the product purchase price.
- Once your order has been shipped, it can no longer be canceled.

While we cannot cancel or change an order once it has been placed you are welcome to return the item to us in accordance with our Returns Policy.

● For Lighting Category:
Q: Are bulbs included with the light fixture?
A: Bulbs are not included unless otherwise noted.

Q: What does the specification under the compatible bulbs, such as E27, E26, E14, etc mean? How to choose the right ones for my chandelier?
A: The specification such as E27, E26 means the diameter of the bulb base in millimeters. For example E27 means the diameter is 27mm.

Q: Why do my bulbs burn out so quickly?
A: Bulbs burn out prematurely for a number of reasons. The more common include:
First, the bulb not making good contact in its socket.
Second, there could be a loose or otherwise bad connection somewhere in the line.
Third, changes in voltage from the Electric Company (including spikes, and surges).
Four, having the bulb in a fixture that does not let it disperse the heat it gives off (too closed up).
Five, putting in a higher wattage bulb than what is recommended for that particular fixture.
Six, You may be using low-quality bulbs.
IHOMDIY Bathroom Sink Faucets
Our mission is to improve the lives of individuals and communities by providing access to clean and safe sanitation facilities. With a focus on sustainability and affordability, we strive to create products that are environmentally friendly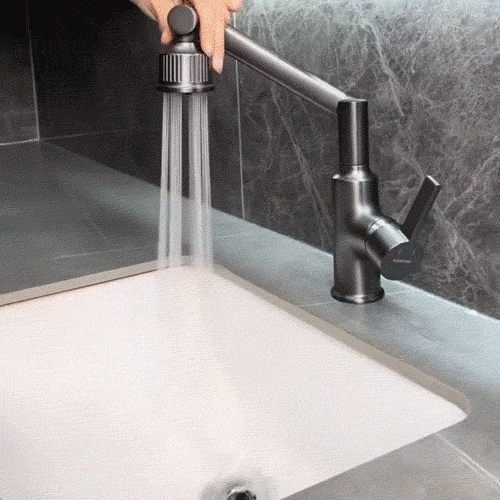 This bathroom faucet has multiple water outlet modes, which can be used in different bathroom scenes, greatly improving the functionality and efficiency.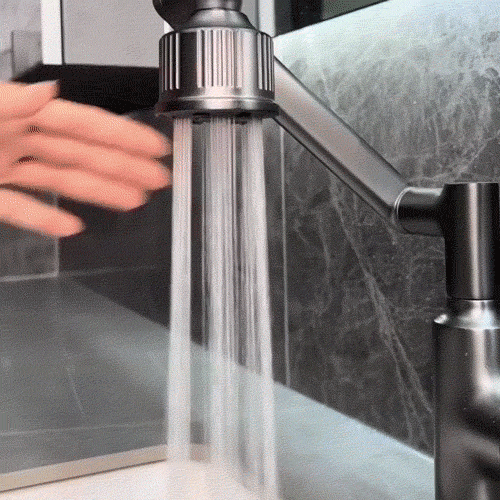 This bathroom faucet can be rotated at any angle horizontally and vertically to meet various needs.
FAQs
Does this faucet need electricity or batteries?

No, it doesn't need electricity or batteries. It has a turbine inside, and when the water flows through, the turbine will turn and generate electricity, which is used to display the water temperature.
What material is this faucet made of?

The faucet is made of brass and stainless steel. And the sprayer is made of ABS, a kind of environmentally friendly polymer material.
How long is the warranty on this faucet?

The faucet has 5-year free replacement warranty.
Is this faucet scratch and rust resistant?

Yes, the faucets have a metal coating on the surface to resist scratches and rust.
Is this faucet easy to install?

Yes, it's easy to install. We provide installation manual, as well as the mounting accessories required for installation. Just follow the manual to complete the installation. Also, the hot and cold water pipes are included.
How do I protect the faucet?

To keep the product clean & shining, follow the steps below:

Rinse with clean water & dry with a soft cloth
Do not clean with soaps, acid, polish, abrasives or harsh cleaners
Do not use cloth with a coarse surface
Unscrew the aerator and clean when necessary
Can this faucet be installed on a countertop basin?

Yes it can. But please make sure the height of the faucet is higher than your countertop basin. Please refer to the specification sheet for the height of the faucet.
Can I change the temperature from Celsius to Fahrenheit?

No, the temperature is shown on Celsius only.
Why is there some water inside of the item when I receive it, is it normal?

Yes, this is normal. All products will be tested by water before shipment to ensure quality. We promise that none of them have been used or are second-hand products.