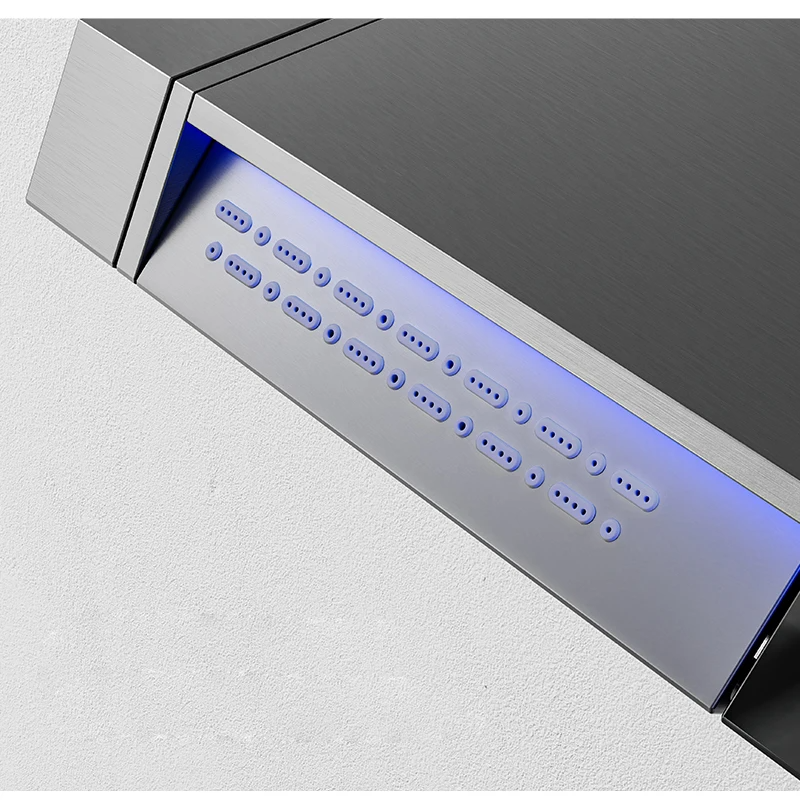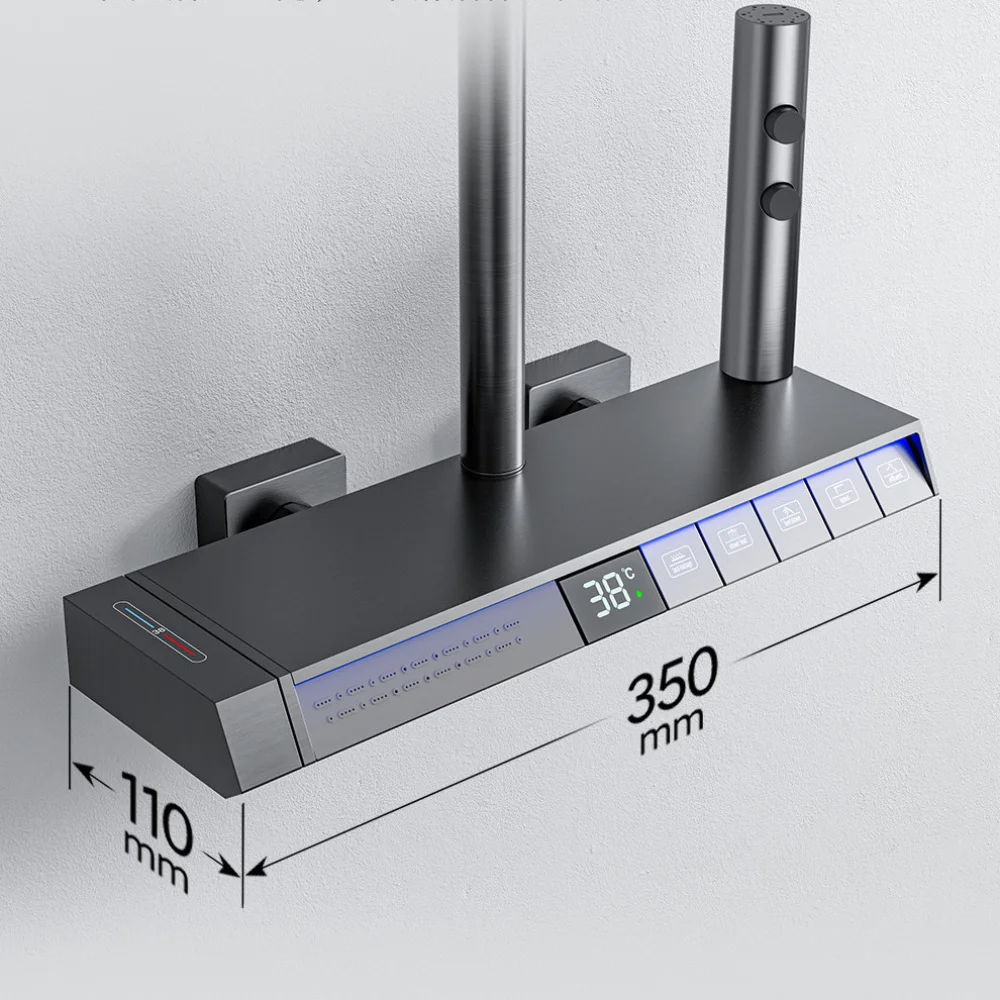 Luxury Bath Shower System Set with Smart Shower Digital Display
30-Day Return & 5-Year Warranty
Features: 
Solid Brass Construction: The shower system body is constructed from solid brass, ensuring durability and resistance to compression and explosions.

Corrosion Resistance: The gun gray brushed finish prevents corrosion and rust, making it long-lasting and scratch-resistant.

Versatile Water Outlets: The system offers four water outlets with independent control, including top spray, hand-held water, tub faucet, and spray gun water, allowing you to switch between various shower modes easily. The single lever also enables temperature adjustment.

Convenient and Functional Design: The honeycomb bubbler at the bottom of the bath tap provides soft, non-splashing water, while a built-in spray gun socket makes it convenient to store shower essentials like shampoo and shower gel.

Adjustable Height: The system features an adjustable shower pipe and slider, allowing you to customize the height of the top spray and handheld showerhead to suit different heights and installation environments, providing an enjoyable shower experience.
5-In-1 Shower Systems & Temperature Digital Display
The integrated shower system offers a convenient and versatile bathing experience with its five functions: hand shower, shower head, sprayer, water fall, and water flow.
This advanced shower system includes a temperature display feature, allowing you to monitor and adjust the water temperature to achieve optimal comfort.
Multiple Outlet Modes
With just a gentle tap, you can seamlessly transition between multiple water outlet modes using this handheld shower, addressing a wide range of your specific preferences.
Multifunctional Sprayers
While taking a shower, this shower system features a versatile sprayer that has the capability to simultaneously clean the bathroom area.
Anti-limescale Silicone Nozzles
Our sprayer nozzles are crafted with utmost care, using anti-limescale silicone. This intelligent design prevents any blockages that may arise from long-term usage, ultimately enhancing the longevity and durability of our top-quality products.
Shipping Policy
We partners with proven carriers that offer insurance and tracking, including: UPS, FedEx, USPS and EMS etc. All shipment times are shown in business days (Monday through Friday, excluding weekends and holidays). Shipping times are subject to each carrier's daily cut-off time, and dependent upon warehouse turnaround.
For more about shipping policy, please click Shipping Information.
Return Policy
To request a cancellation please contact Customer Service at email within 24 hours and we will attempt to stop or modify the order. Once an item has produced or shipped, cancellation is not possible.
Items returned to us that meet the following guidelines will be fully refunded for the cost of the merchandise. Original shipping charges cannot be refunded. If you have any questions, please email us at sales@ihomdiy.com
A. Must be in resalable conditionMust be free from scratches and/or defects
B. Must not have been installed.
C. Must be in the original manufacturer's box and packaging.
D. Must not have any writing on the original packaging.
E. Must not be missing pieces.
F. Must not be clearance/liquidations/closeout
For more about return policy, please click Return & Exchange Policy.
Shower Systems
Q: What material is the shower made of?
A: Different parts of the shower are made of different materials.
Main body: brass; Shower arm: stainless steel; Sprayer: stainless steel; Handheld and top spray shower: ABS

Q: How does the shower display the water temperature without batteries?
A: The turbo system and temperature tester are built into the shower main body. When the water flows through, the turbine will rotate and drive to generate electricity, which is used to display the water temperature.
Q: Is there any requirement for water pressure?
A: In general, the water pressure of ordinary household water can meet the requirements. The specific water pressure requirement is 0.1~0.5 MPa.
Q: Can the water temperature display be in Fahrenheit instead of Celsius?
A: Sorry, it can't. All current temperature display shower products are designed in degrees Celsius.
Q: What is the warranty of the shower system?
A: Like any other product, the shower system has a 5-year warranty as well. Free replacements within the warranty period.
Q: Why is there some water inside of the item when I receive it, is it normal?
A: Yes, this is normal. All products will be tested by water before shipment to ensure quality. We promise that none of them have been used or are second-hand products.
Q: Can I change the temperature from Celsius to Fahrenheit?
A: No, the temperature is shown on Celsius only.
Q: Can the shower spray water in two modes at the same time?
A: Yes, it can. Up to four water outlet modes can work at the same time.
Bathroom Sink Faucets
Q: What material is this faucet made of?
A: The faucet is made of brass and stainless steel. And the sprayer is made of ABS, a kind of environmentally friendly polymer material.

Q: How long is the warranty on this faucet?
A: The faucet has 5-year free replacement warranty.
Q: Is this faucet scratch and rust resistant?
A: Yes, Ihomdiy faucets have a metal coating on the surface to resist scratches and rust.
Q: Is this faucet easy to install?
A: Yes, it's easy to install. We provide installation manual, as well as the mounting accessories required for installation. Just follow the manual to complete the installation. Also, the hot and cold water pipes are included.
Q: How do I protect the faucet?
A: To keep the product clean & shining, follow the steps below:
*Rinse with clean water & dry with a soft cloth
*Do not clean with soaps, acid, polish, abrasives or harsh cleaners
*Do not use cloth with a coarse surface
*Unscrew the aerator and clean when necessary
Q: Why is there some water inside of the item when I receive it, is it normal?
A: Yes, this is normal. All products will be tested by water before shipment to ensure quality. We promise that none of them have been used or are second-hand products.